Some of what the statistics show…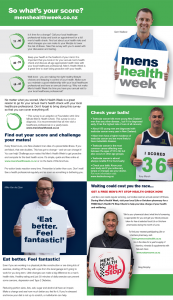 NZ men live on average four years less than women, and yet still remain much less likely to talk to a GP about their health.
One New Zealand man dies every three hours of a potentially avoidable illness; with death rates for Maori men nearly double that of non-Maori (Statistics NZ).
6 out of 10 New Zealand males are overweight.
Nearly a quarter of New Zealand men smoke.
27% of men have potentially hazardous drinking patterns.
Men are at greater risk of stroke than women, with stroke being the second biggest single cause of death and the largest cause of disability in adults in New Zealand.