The Back In Action Team is here to help!
Back In Action is a team of health professionals dedicated to helping you to get the most out of your body and thrive!
Our Physiotherapists, Chiropractor, Massage Therapists and Vocational Consultant work collaboratively to help get you back to doing the things you love - at home, at work, at play.
Our approach looks at a pathway of care with four stages: Settle - Restore - Load - Perform
You might enter our service at any stage of the pathway.  For example not everyone who accesses our professional services are injured. Many are looking to improve on function, mobility or physical performance.
Everyone is unique and needs a tailored approach to their input and that is how we work.
If you would like to have an assessment give us a call or book online (click below).
BOOK ONLINE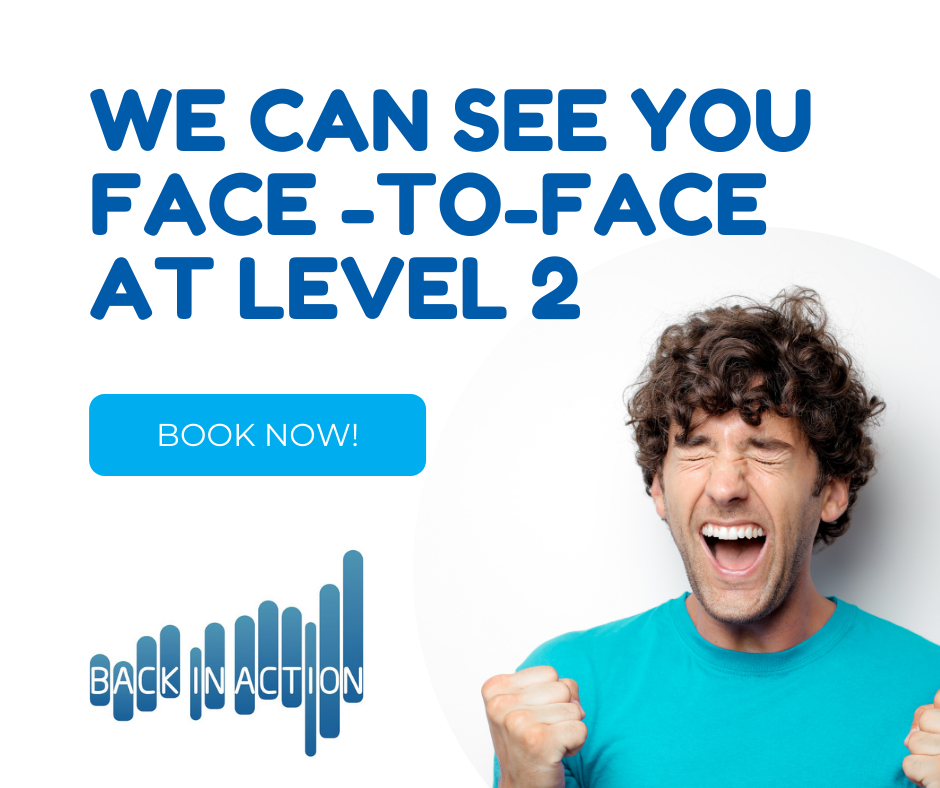 How we can help at Level 2
The Back In Action team is able to see you face-to-face at Level 2 with some slight changes to ensure your health and well-being are protected as best we can.
Some things you need to know:
If you do not wish to be seen face-to-face we can continue to provide consultation online and progress you in your rehab journey - this is called a Telehealth appointment.
If attending face-to-face please only bring a support person or child(ren) with you if ncecessary - we need to limit the people in the waiting room.
We will record the name and contact details of those who attend with you on your appointment notes for contact tracing.
Please wear clothing which will allow the clinician to see your injured area move (eg shoulder - have a singlet, knee- bring shorts)
Please wear a mask (or provide a copy of exemption document prior to your appointment)
Please scan the QR code and sanitise on entry.
We're so happy to be able to provide our service! Please share your positive experience with family, friends and colleagues!
BOOK ONLINE
Southern Cross Easy-Claim Provider
As a Southern Cross Easy-Claim Provider we can process your physiotherapy claim directly with Southern Cross on the spot and so you will only need to pay for what your insurance doesn't cover.