COVID Restrictions
Due to the duration of massage appointments and the clients need to remove their mask Back In Action has made the decision for massage therapy clients to be vaccinated.
Please notify your vaccination status on booking and present your vaccination card or record on arrival.
This is not a decision we make lightly and so we thank you for your understanding.
Supporting the life of a growing baby is hard work!
During pregnancy our bodies are adapting and changing to carrying a load and sometimes they are taking a bit of a hammering.
It's important to support your body through this process and massage is a great way to do this!
Massage Therapist Catherine Pearce is specifically trained in pregnancy massage and we have the equipment to make this a comfortable experience for you.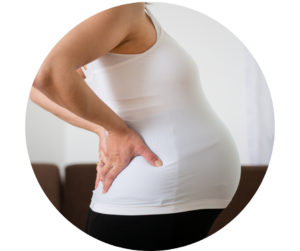 The benefits
Pregnancy massage has many benefits to the mother and her baby, including:
Soothing and relaxing nervous tension and anxiety
Aiding circulation
Assisting with increased fluid retention
Relief of Carpel Tunnel symptoms
Relief from headaches
Alleviating common muscular discomforts caused by muscular changes and tension such as lower back pain, hip pain, upper back neck and shoulder pain.
Most importantly massage offers a mother-to-be the time to embrace her pregnancy, rest, relax and recharge her body.
You can safely have a massage throughout your entire pregnancy, including from trimester one.  The first trimester has numerous physiological changes occurring, and providing this nurturing massage support during this time can assist your body with these changes.
We have a variety of positions that can be used to ensure a safe and effective treatment for the mother and her baby, these include using a pregnancy belly pillow system and the side-lying position.
We recommend your first appointment to be for a 1-hour session, this allows for a through health history and time to discuss your current pregnancy. We ask you arrive 10-15mins early fill out the client intake form and give yourself time to settle.
Please contact us before your treatment if you have of the following, our therapist may call to discuss and we may ask for medical clearance prior to your massage:
High level of morning sickness
Diabetes
Heart disease
Hypertension (chronic & gestational)
Pre-eclempsia
Risk or a history of miscarriages
Cervical conditions
Bleeding
Placenta Previa or abnormalities
Blood clotting disorders
History of pregnancy complications
Foetal abnormalities
Multiple births
Asthma
Kidney conditions
Liver conditions