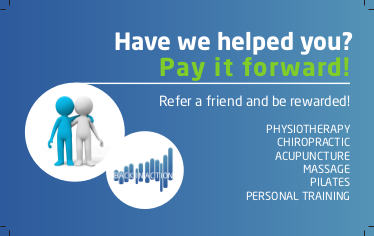 Paying it forward
In appreciation of your support of our services we have introduced a pay it forward scheme whereby your treatment is discounted in recognition of the clients you introduce to our service.
In a community such as the Wairarapa we know the power of word of mouth and we want you to know that we don't take that for granted!
How it works:
Pay it forward cards are available at reception or your clinician may hand one to you at the end of your treatment session.
Simply write your name on the back of the card and pass the card on to someone who needs it most. When they present the card at their first appointment we will welcome them with a $5 discount and credit your account with the same in thanks!